NGC 5395 und 5394 (Arp 85)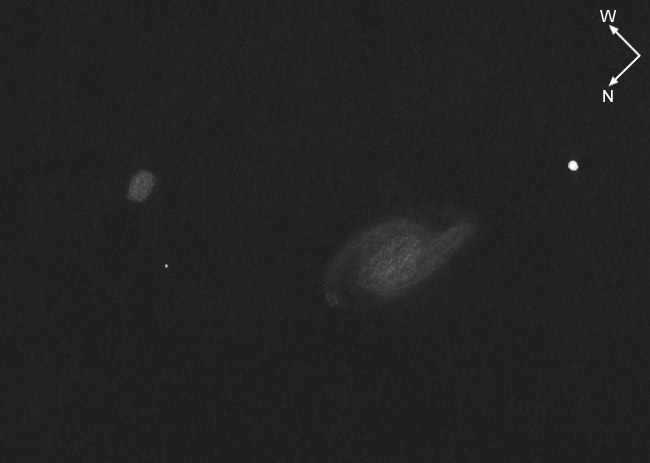 N 250/1250 – 197x – fst 6m3
NGC 5395 Gx 13h 58,6m +37° 25' 11m4 2,7'x1,2' CVn
NGC 5394 Gx 13h 58,6m +37° 27' 13m0 1,7'x1,0' CVn
Eintrag in der DeepSky Datenbank
NGC 5395: helle Galaxie, erscheint ca. 2:1 elongiert N-S. Später zeigen sich schwache Spiralarme gegen den Uhrzeigersinn windend. Am nördlichen Spiralarm liegt etwas abgesetzt ein Knoten. Der südliche Arm ist aber breiter, heller und verläuft gerade. Der Hauptkörper wird nur wenig heller zur Mitte.
NGC 5394: schwache, sehr kleine Galaxie, ziemlich kompakt mit hoher Flächenhelligkeit, gering elongiert NO-SW, kaum heller zur Mitte, kein Kern.

NGC 5395: Bright galaxy, elongated 2:1 N-S. Later, faint spiralarms winding counter-clockwise are visible. A faint knot lies deteched from the northern arm. The southern arm is broader and brighter and extends straight from the main body. The main body is a little brighter towards the middle.
NGC 5394: Faint, very small galaxy, pretty compact with high surface brightness, little elongated NE-SW, little brighter towards the middle, no core.