NGC 4361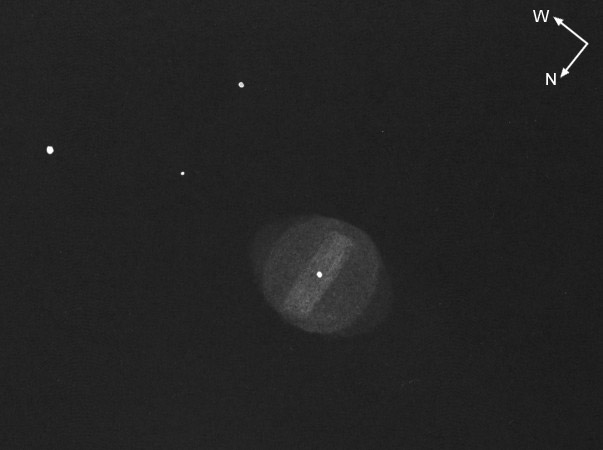 N 250/1250 – 100x – fst 6m3
NGC 4361 PN 12h 24,5m -18° 48' 10m9 >45" Crv
NGC 4361 ist ein heller planetarischer Nebel. Er steht in Mitteleuropa recht tief am Himmel und ist daher nicht optimal zu sehen. Visuell ist es recht schwierig Strukturen zu erkennen.
NGC 4361 war Objekt der Saison in Interstellarum Nr. 14

NGC 4361 is a bright planetary nebula. In Central Europe it rises only low above the horizon, hence it is not visible optimal. It is reasonably difficult to detect details visually.
Eintrag in der DeepSky Datenbank
NGC 4361: heller PN, relativ groß, zur Mitte heller, hat einen hellen Zentralstern, in Richtung O und W sind ganz schwache Ausläufer, in der Mitte liegt ein längliches Zentralgebiet etwa N-S dass an der Westseite etwas heller ist, [OIII]-Filter bringt nichts

NGC 4361: Bright PN, relative large and brighter towards the center. Towards E and W are very faint extensions. In the middle is a N-S elongated central area brighter at the west. It contains the bright central star. The [OIII] shows no effect.