NGC 3242 - Jupiter's Ghost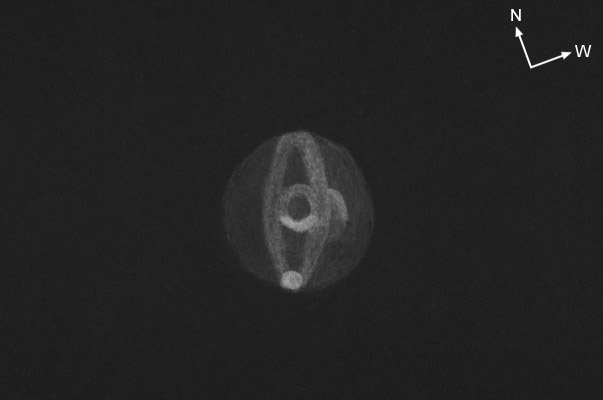 N 250/1250 – 300x – fst 6m2
NGC 3242 PN 10h 24,8m -18° 38' 7m8 >16" Hya
Der planetarische Nebel NGC 3242 ist einer der hellsten Vertreter dieses Objekttyps. Er ist in der Wasserschlange zu finden. Bei näherer Betrachtung kann ich aber keine Ähnlichkeiten zu Jupiter erkennen.

The planetary nebula NGC 3242 is one of the brightest of its class. It can be found in Hydra, the water snake. On a closer view I can see no similarity to Jupiter.
Eintrag in der DeepSky Datenbank
NGC 3242: heller planetarischer Nebel, der innere Teil hat die Form einer Linse deren Ränder am hellsten sind, in der Mitte erkenne ich einen Kreis der im SSO heller wird, am Südende der Linse erkenne ich noch einen hellen Fleck. Am Westrand der Linse, etwas N der Mitte, setzt ein kurzer Bogen Richtung S an, der etwa so lange wie der Durchmesser des Zentralen Rings ist. Der gesamte Komplex ist in einen schwachen Kreis eingebettet.

NGC 3242: Bright planetary nebula. The inner part is lens shaped with brighter edges. In the middle I see a circle which is brighter in SSE, at the southern end of the lens is a brighter spot. A short arc to south stars at the west side of the lens somewhat N of the center. It has a length similar to the diameter of the inner circle. The whole complex is embedded in a faint circle.