NGC 2403 mit Supernova SN 2004dj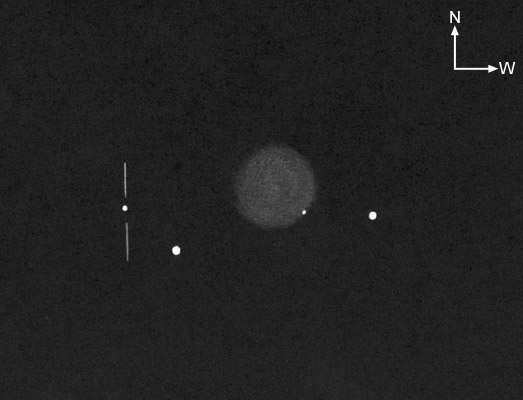 N 250/1250 – 139x – fst 4m8
NGC 2403 Gx 07h 36,9m +55° 36' 8m5 25.5'x13.0' Cam
Ich beobachtete am 02.08.04. Zu dem Zeitpunkt hatte die Supernova eine Helligkeit von etwa 11m5.

I observed on 08/02/04. At that time the supernova had a brightness of about 11m5.
Eintrag in der DeepSky Datenbank
NGC 2403: Beobachtung der Supernova 2004dj bei fast vollem Mond und unterer Kulmination. Der Kern der Galaxie ist schwach zu erkennen, aber unter den Bedingungen ist nichts von Struktur zu erkennen. Die Supernova selbst erscheint als mittleres Sternchen recht weit weg vom Nebel der Galaxie.
NGC 2403: Observation of the supernova 2004dj in the bright sky of with a nearly full moon and in lower culmination. The core of the galaxy is faintly visible, but no hint of structure is discernable. The supernova appears as a medium bright star rather far away from the nebula of the galaxy core.