NGC 891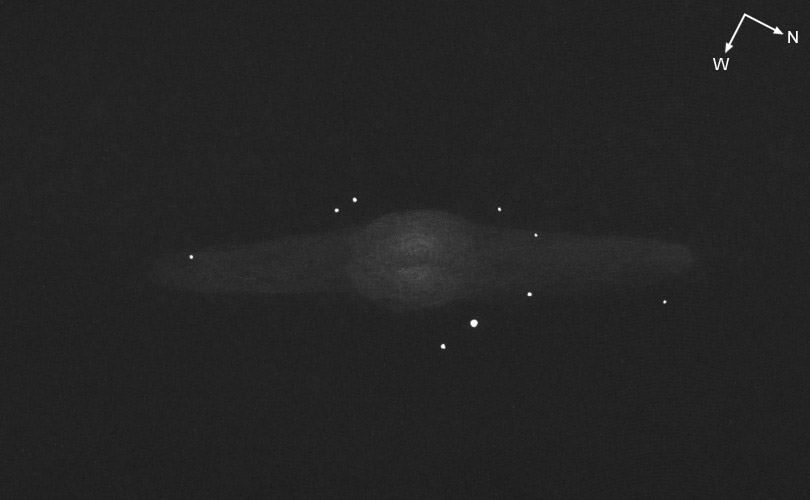 N 250/1250 – 139x – fst 6m3
NGC 891 Gx 02h 22,6m +42° 21' 9m9 13,0'x2,8' And
NGC 891 ist das Paradeobjekt der Edge-On Galaxien am Herbsthimmel. Sie erscheint allerdings schwächer, als die 9m9 vermuten lassen und befindet sich auch noch in einer recht sternreichen Umgebung. Sie ist ein Mitglied der NGC 1023 Gruppe.

NGC 891 is the show piece edge-on galaxy on the autumn skies. It appears fainter than you might expect from the 9m9 and it is situated in a fairly rich star field. It is a member of the NGC 1023 group.
Eintrag in der DeepSky Datenbank
NGC 891: Sehr große, recht lichtschwache Galaxie. Sehr langgestreckt. In der Mitte etwas dicker und heller. Im Zentrum ist ein noch mal hellerer Bereich, der durch das breite aber sehr schwache Staubband geteilt wird. Sonst bleibt das Staubband unsichtbar. Die Galaxie ist von ziemlich vielen Sternen umgeben, einige stehen ziemlich nah am Rand.

NGC 891: Very large but pretty faint galaxy. Highly elongated. Thicker and brighter in the middle. In the center is an even brighter area divided by the broad but very faint dust lane. The dust lane is invisible in other parts. The galaxy is surrounded by many stars, some are very close to the rim.