IC 434 and Barnard 33
Horsehead Nebula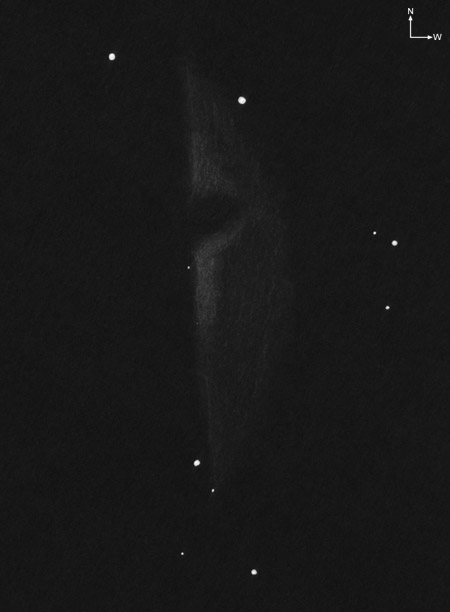 N 250/1250 – 39-66x – Hβ filter – Bortle 4
IC 434 GN 5h 41,0m -02° 24' 60'x10' Ori
Barnard 33 DN 5h 40,9m -02° 28' 6'x4' Ori
DeepSky Datenbank
IC 434: IC 434 ist ein sehr schwacher Gasnebel der aber durch seine relativ scharfe Kante im Westen auffällt. In der Umgebung von B 33 erscheint die Nebelkante etwas heller, vor allem an dessen Südseite aber auch im Nacken des Pferdekopfes.
B 33: Der Pferdekopfnebel ist sehr kontrastschwach und als kleine Einbuchtung in IC 434 zu erkennen, die etwas nach Norden ausgebeult erscheint.

IC 434: IC 434 is a very faint nebula but it pretty easy to see because of its sharp western edge. The edge is brighter around B 33, particularly at its southern side but also in the neck of the horsehead
B 33: The Horsehead Nebula has very low contrasts. It is visible as a small indentation in IC 434. It seems to by bulgy to the north.